Investing in You
Take Your Career to the Next Level
You've worked hard to gain the experience you have. We'll help you take it further.
Professional Development
Grow Your Career at Blue
It's easy to stay at an easy job, right? If you're ready to push the limits and learn something new, it's time to try Blue. You'll find opportunities abound — from client interaction to leadership development to niche market exploration and more.
At Blue & Co., we invest in your professional development because when your needs are met, you can better help our clients succeed. When you advance your career, your quality of life advances too.
Time for Growth
Development Opportunities at Blue
Here are some ways we support Blue employees and their careers.
Training Programs

At Blue University, we provide continuing education programs that combine in-house courses with training opportunities through state CPA societies and the AICPA.

Leadership Development Programs

Blue's award-winning leadership development programs encourage growth in our upcoming leaders. The skills learned in Blue's three core leadership programs are hands-on, practical and relevant to your current career path.

Peer Coaches & Mentors

You'll be paired with a coach and set goals to leverage your strengths and cultivate new skills. You'll also get interaction and mentoring from technical, managerial, talent and client experts.

On-Site & Hands-On Training

To align with your career path, we pair you with different teams on different projects so you can see how it's done.
Ready for Change
Meet Brandon
Brandon worked in the healthcare industry for many years and became burned out from doing his day-to-day operations. He came to Blue looking for something new.

"When I was first hired, my supervisor and I discussed my career aspirations, and one of the things that I continued to stress to him was the need to learn," Brandon said. "I had been out of school for several years, but my healthcare career had been limited to managing practices or smaller offices. I wanted to learn the industry from the bottom up."

Keeping this in mind, Blue connected Brandon with other departments within the healthcare industry and encouraged him to learn the ins and outs of different projects. Brandon also takes advantage of several of Blue's professional development programs.

"In my time at Blue, I've learned so much. It's never a dull experience."
From Intern to Director
Meet Annmarie
Annmarie's first encounter with Blue was at a career fair at IU Bloomington. She applied for a summer internship that went well and then for a second summer internship while she completed her MBA. She accepted a full-time position after graduating in 2010 and never left.

"After spending my career here and working towards the director path for several years, it means so much to have arrived at this new part of my journey," Annmarie says. "In some ways, nothing has changed. In other ways, I am learning every single day!"

She accepted the audit director role in 2022 and has since thrived on the welcoming embrace of other Blue directors.

"I feel supported, and I feel welcomed," she said. "This gives me a lot of comfort, and I'm confident my efforts leading up to this point were worth it."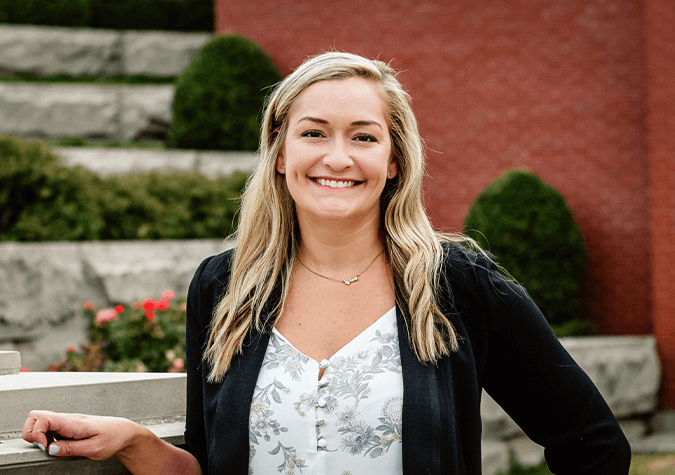 Find Your Niche
Blue & Co. Areas of Expertise
Audit & Assurance

Tax

Business Advisory

Healthcare Consulting

Blue Internal Services Team

Industries
What to Expect
Application Process
Seasonal Opportunities
Part-Time Work During the Busiest Season
Looking to stay in the game but only work part-time? Blue hires experienced experts for various busy seasons across our multiple service lines. Join our team for three to four months and see what it's like to work with a company that cares about your success.
After the season is over, you get to go back to your everyday life with some new professional connections and a little bit of extra cash in your pocket.
Available seasonal positions may include:
Staff Accountant
Senior Accountant
Tax Specialist
Tax Manager
Administrative Assistant
The Perfect Candidate
Set Yourself Up for Success
Prepare yourself for the hiring process with these tips from our recruiting experts.
Work With Us
We want to create a unique career path for you because when your needs are met, you're better equipped to handle the needs of our clients. Ready to join a workplace that values your successes inside and outside of work?