During the weekend of July 22-23, I enjoyed bonding with Blue & Co. colleagues from the Carmel and Indianapolis offices at two events -- the 2023 Indiana Sports Corp Corporate Challenge held at the Indianapolis Motor Speedway and the Carmel office's annual Park, Family, & Pet Day at Roy G. Holland Memorial Park.
The Corporate Challenge
On Saturday, Drew Roberts from our downtown Indy office kicked off the day by running the 10K Team Run, while Chris Reid, Tom Amos, Mark Bergmeyer, and Drew Roberts ran the 5K. The super-speed walking queen Erin Waltman and I participated in the 3K fitness walk.
Paul Louizos took over the Yoga and Zumba floor, perfecting every pose for three hours, while the rest of the team participated in other fun events like dodgeball, tug-of-war, football accuracy throw, a basketball shootout, and more.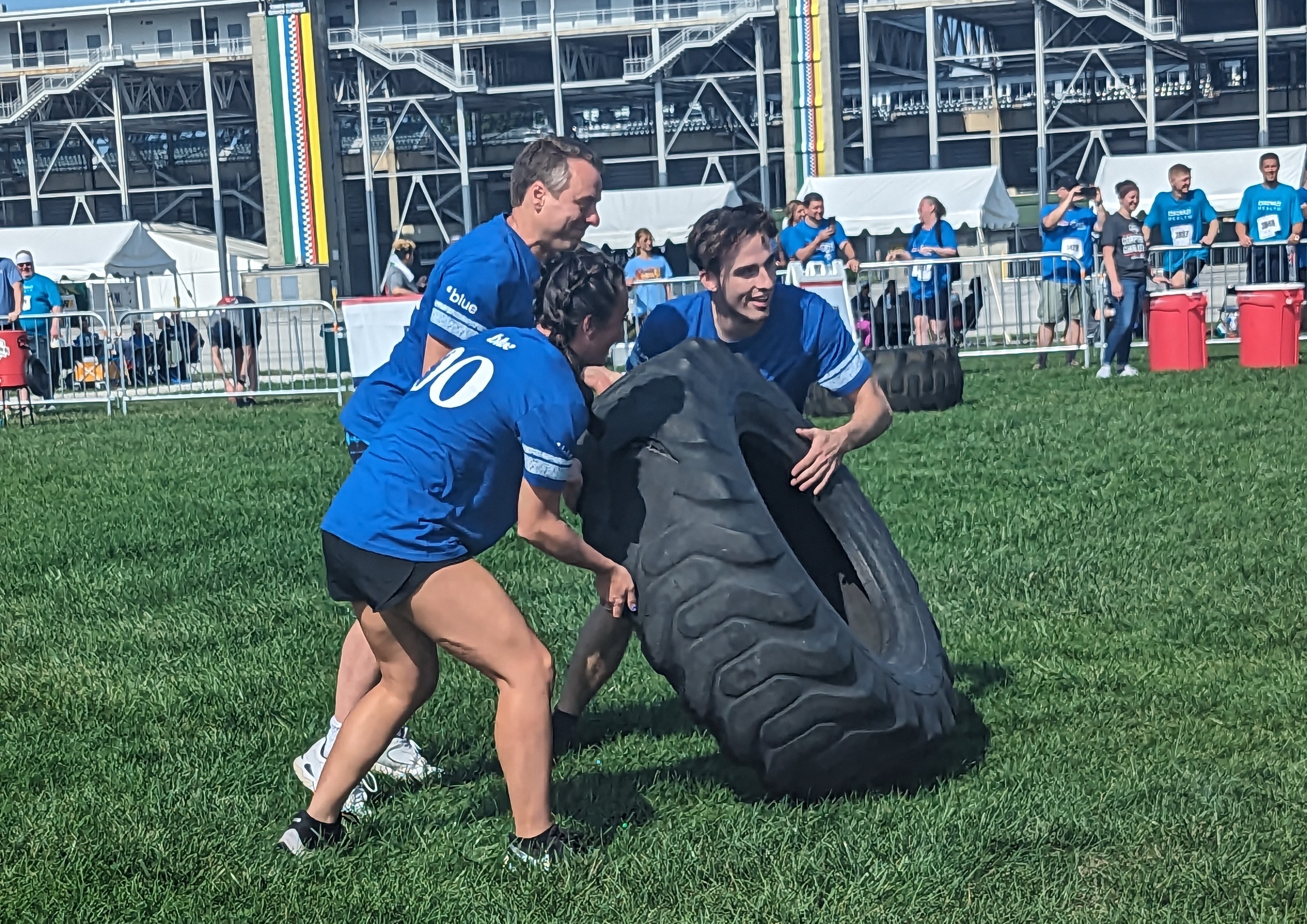 "The Interns" work together to flip a tractor tire for one of the

2023 Indiana Sports Corp Corporate Challenge

events. This event was held at the Indianapolis Motor Speedway on July 22, 2023.
I also competed in the infamous cornhole challenge with the adept Ethan VanWagner. We won our first match, which pitted us against one of our industry competitors for the final round. It was a hard battle, full of friendly competition, but sadly, we lost. I look forward to coming back next year with a well-practiced throwing hand and ready for a victorious re-match.
| | |
| --- | --- |
| | |
| Ethan VanWagner tosses his beanbag towards the cornhole board. | Erin Waltman, the super-speed walking queen, poses for a photo. |
Overall, the Corporate Challenge was an unforgettable day of bonding with my colleagues and networking with professionals from various Indianapolis companies, all while having a good time building camaraderie and having some friendly competition.
This event was a great outlet for some of the former student-athletes, and allowed us to compete against some of our friends in the same industry, while trying to beat them out on the track or in one of the other sporting events.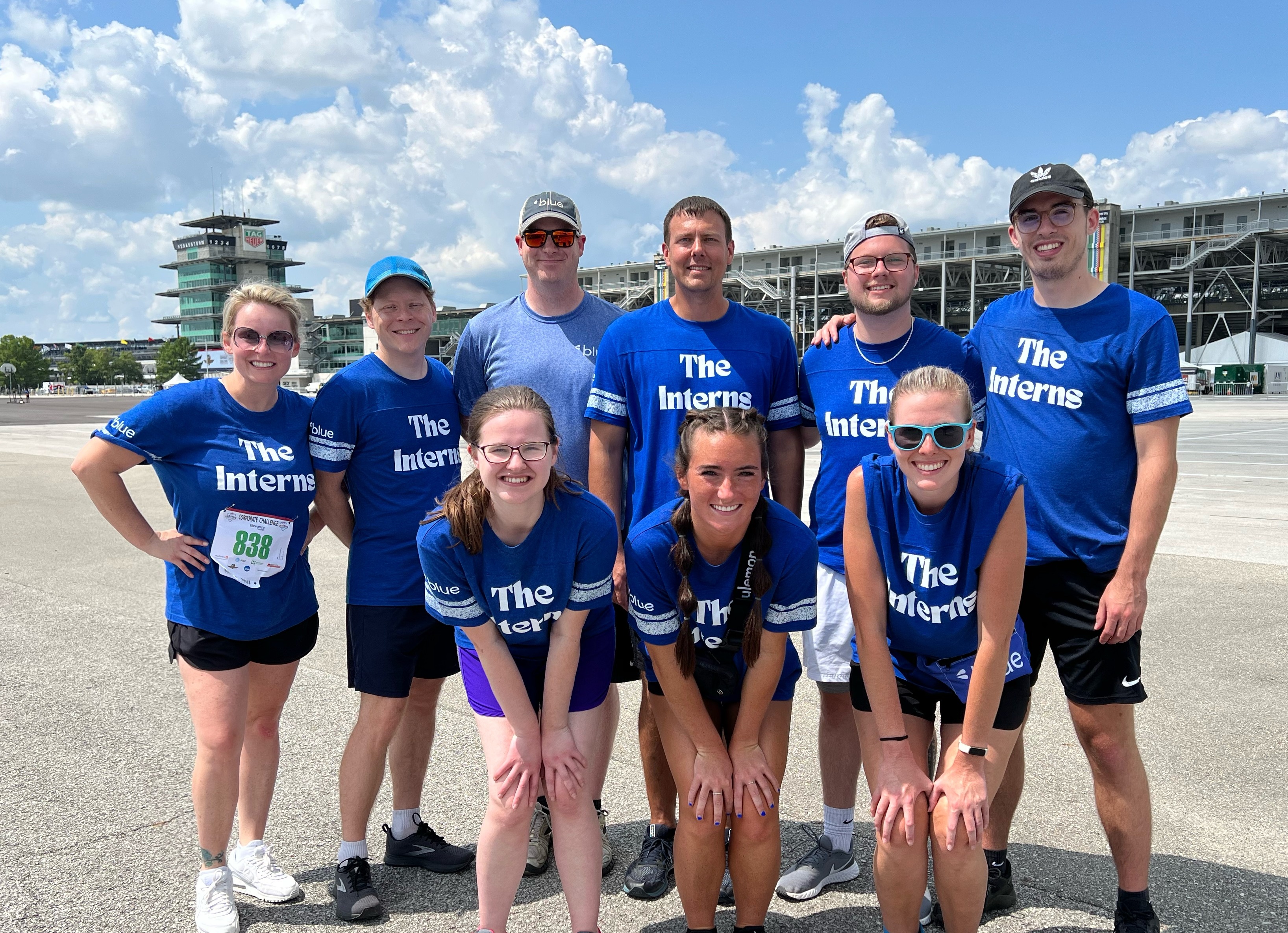 Blue's Corporate Challenge team, "The Interns", participated in the 2023 Indiana Sports Corp Corporate Challenge held at the Indianapolis Motor Speedway on Saturday, July 22. Pictured above is (Top L to R) Leslie McCatherine, Chris Reid, Billy McNeely, Mark Bergmeyer, Ethan VanWagner, and Bryan Stancliffe. (Bottom L to R) Erin Waltman, Bailey Meyer, and Alexandria Truex.
Park, Family & Pet Day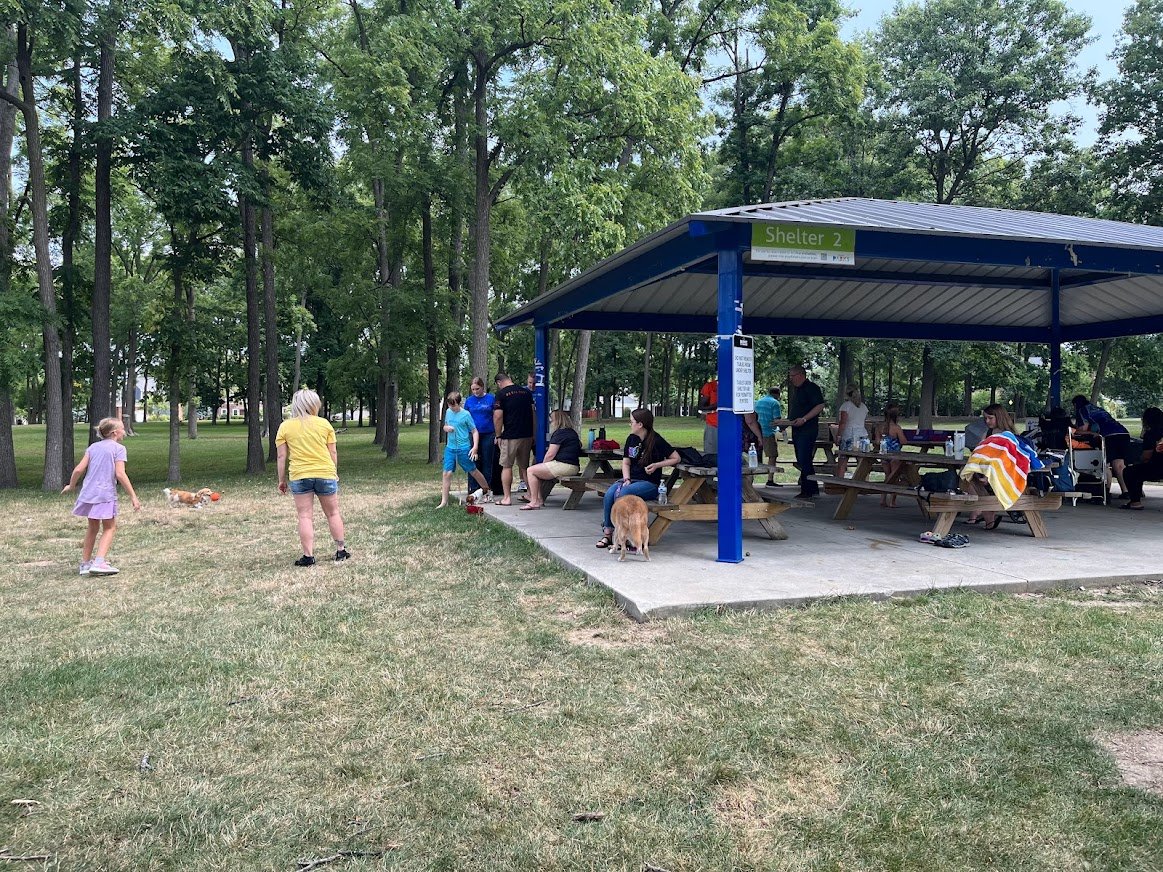 On Sunday, the Carmel, IN office hosted their annual Park, Family & Pet Day at the Roy G. Holland Memorial Park.
On Sunday, Blue's Carmel office embraced the spirit of togetherness with the Park, Family & Pet Day. It was an opportunity for employees to bring their families and furry-friends together for a day outside.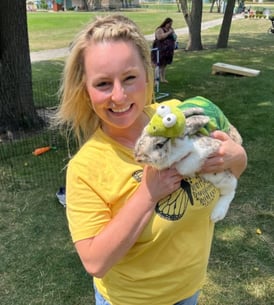 Leslie pictured with her rabbit, Layla, who won the Pet Costume Contest while dressed as a turtle.
The day was filled with engaging activities for all age groups - from face painting and splashpads, to soccer and cornhole games. Everyone, including the four-legged companions, found something enjoyable to participate in. There was even a pet costume contest which my rabbit, Layla won!
The atmosphere was nothing short of heartwarming, as children laughed, pets played, and friendships between families flourished. There was a sense of belonging that extended beyond the workplace.
| | |
| --- | --- |
| | |
| | |
Why I Like Working at Blue
I find that spending time with my colleagues outside of work is a rewarding and enriching experience. It allows me to get to know them on a more personal level and build a stronger professional relationship with them, which in return has fostered a more positive work environment.
I have been able to get a deeper understanding of their interests, hobbies, and goals which has helped me relate to them better and therefore contributes to a more enjoyable and fulfilling work experience for me.
🔍 RELATED: Blue Named Best Place to Work in Indiana for 14th Year
The culture at Blue & Co. has been a refreshing change from some of my previous work experiences in several meaningful ways.
One of the most striking differences is Blue's commitment to employee growth and development. The opportunities for training, skill enhancement, and career advancement are readily available and actively encouraged. Blue has several internal training programs, self-study programs, monthly lunch-and-learns, numerous beneficial training seminars throughout the year, not to mention Blue's in-house Bridges, Pathways, and Building Leaders talent development programs. Blue's investment in its employees' professional growth demonstrates a long-term commitment to their success and well-being.
Moreover, the work-life balance is remarkable. Blue understands the importance of maintaining a healthy balance between work and personal life, and they actively support their employees in achieving this balance. One of the ways they do this is by allowing each office to have a Social Committee that plans fun events throughout the year (like the Park, Family & Pet Day)! Overall, this has significantly reduced my work-related stress and has allowed me to be more focused and productive during working hours.
Lastly, what stands out to me is the level of camaraderie, open communication, and collaboration. It is unparalleled. At Blue, I've noticed that there's a genuine effort on the management side to encourage employees to share their ideas, feedback, and concerns openly. I've found on the staff side that they are genuinely interested in helping one another succeed, and there's a strong spirit of collaboration rather than competition.
I feel like we have an inclusive and supportive environment here at Blue and everyone's voice is valued.
About the Blueprints for Success Series
Blueprints for Success is a blog series that offers readers an inside look into the thriving world of a top-60 accounting and consulting firm, as told by Blue's experienced hires. In this series, seasoned professionals share their genuine experiences, stories, and insights, shedding light on the aspects they love about working at Blue & Co., LLC.
To learn more about our firm's benefits and various programs, explore www.careersatblue.com.
GROW YOUR CAREER WITH US
Explore Open Positions
We want to create a unique career path for you because when your needs are met, you're better equipped to handle the needs of our clients. Ready to join a workplace that values your successes inside and outside of work?